New 2018 Genesis Essentia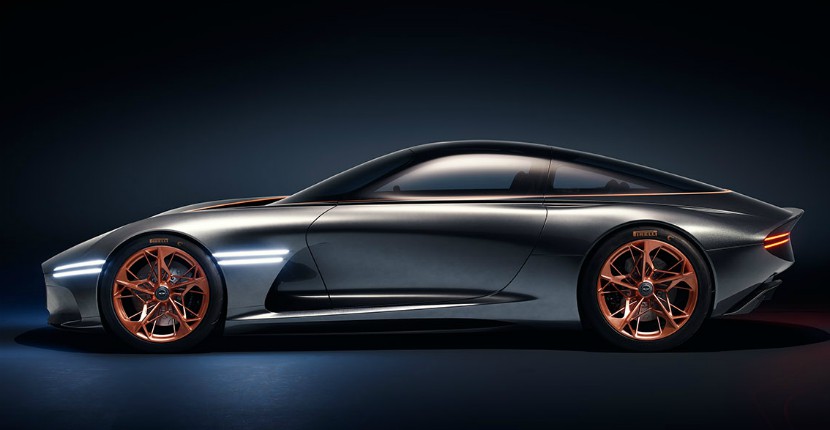 There is a lot to love about concept cars. From their ultramodern design to their technological capabilities, concept cars give us a glimpse into what the future holds for the automotive industry. Among the best concept cars is the 2018 Genesis Essentia.
The 2018 Genesis Essentia was first revealed at the New York auto show this year. Although the Essentia is making appearance at numerous auto show throughout the year, car aficionados attending the New York auto show saw, for the very first time, how the Essentia pairs its futuristic design with its unmatched technology.
Starting with the exterior of Genesis' first ever battery electric concept vehicle, the 2018 Essentia has an aerodynamic bubble-top hood that seamlessly flows into its butterfly doors. The transparency of the hood allows for a view of the suspension, which gives the vehicle a sporty and futuristic feel. Additionally, the 2018 Essentia concept is composed of carbon fiber, and even sits on a monocoque chassis.
The interior of this concept car is just as impressive. The 2018 Genesis Essentia includes two seats, leather and velvet fabric finishes, and a massive interactive touchscreen display that sits on the dashboard. The interior has a minimalistic feel, which is due to the lack of the usual buttons and knobs found inside vehicles. Instead, the operational gears have all been configured to work via the touchscreen. The 2018 Essentia's touchscreen has the capability to receive up-to-the-minute alerts about weather, road conditions, areas of traffic, and accidents. In addition, the touchscreen is equipped with Genesis Intelligent Assistant, which uses voice recognition technology, which allows drivers to access everything hands-free.
Genesis has not released much information about the 2018 Essentia's powertrain, but what is known is that it includes multiple electric motors, and I-shaped battery pack, and has the capability to reach 60 mph in as little as three seconds. Genesis has worked hard to create a concept vehicle that aims to connect drivers to the world around them.
Although there is a good chance that the 2018 Genesis Essentia will not see production, car lovers can view this ultramodern concept car at auto shows throughout the year. For information about the 2018 Essentia, visit your Algonquin Hyundai Genesis dealer to view new models Genesis has to offer. Give us a call at (844) 327-7866 or visit us at 789 S Randall Road to see the Genesis dealer in Algonquin!