Is the 2018 Genesis G70 the fastest, most luxurious car?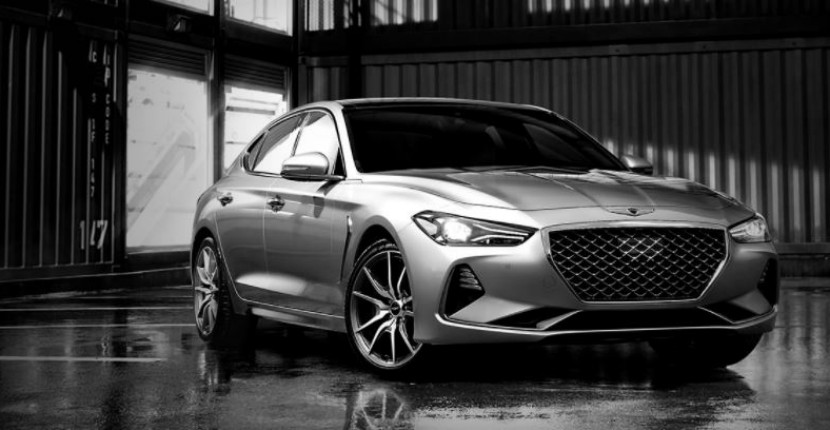 With the new 2018 Genesis G70, Hyundai has managed to create the kind of vehicle that most Algonquin Hyundai fans only dream about: A fast, capable, powerful car equipped with all the best in luxury tech upgrades and style. The new Genesis is quickly becoming the vehicle to beat among North American and European luxury car brands.
The 2018 Genesis will debut soon at Algonquin Hyundai Genesis dealers to compete with the likes of the BMW 3-Series, the Mercedes C-Class and the Audi A4. The new vehicle rounds out Hyundai's new line which includes the mid-size G80 and full-size G90 sedans.
"The launch of the Genesis G70 is an important milestone for our brand," Manfred Fitzgerald, head of Genesis, said in a recent statement.
"It is a great point of pride to have Genesis showcase what a true luxury brand of Korean origin can present to our discerning customers," Woong-Chul Yang, the vice chairman of Hyundai Motor Group's research and development division, added.
The 2018 Genesis G70 certainly represents a welcome change of pace for the automaker–the new car will be larger than life in basically every way. The new G70 will be longer and wider than its competitors (including the BMW 3-series) and it will ride on a longer wheelbase (2,835 mm). Altogether, this makes Hyundai Genesis' newest offering more spacious than the best-selling BMW of all time.
Of course, it's what's under the hood that really has people buzzing. The new Genesis is available with plenty of engine options, starting with the standard 2.0-liter Theta II GDI engine with 252 PS. When paired with the available Sports package, you'll enjoy 255 horsepower with the Theta II GDI. Looking for something with a little more pep? The Lambda II V6 engine (capable of producing 370 horsepower) may be the better choice for you. The Lambda V6 goes from zero to 60 in just over 4 seconds and tops out at 168 mph.
With the 2018 Genesis G70, you'll blow the competition away in style because Hyundai Genesis is proud to offer the new G70 with all of the luxury components you can imagine. Inside, you'll enjoy quilted leather textiles and a smoothly-designed console that rivals any of those currently on the market. With a full suite of best-in-class tech gadgets and a range of active safety features, the new G70 is everything you could ever want from a luxury vehicle.
Visit us at Rosen Genesis to take a look at our current Hyundai Genesis models for sale and to find out when the 2018 Genesis G70 will be available. We're proud to say that we've got the best 2018 Hyundai models near you on our lot today. Come take a look and find out for yourself.