The All-New 2017 Genesis G80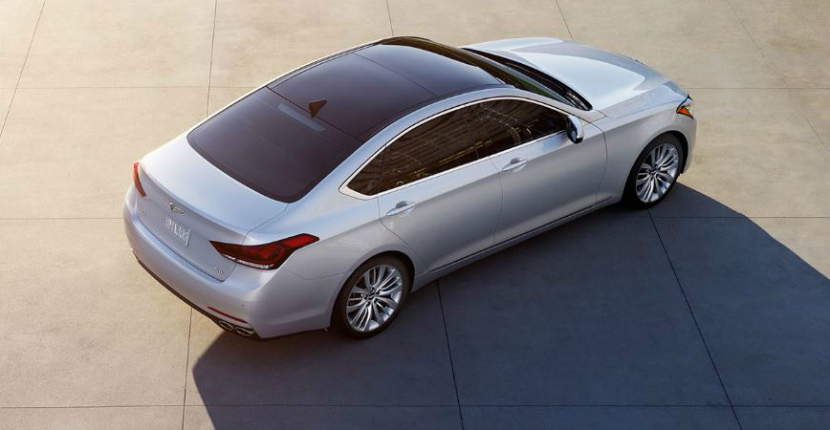 It is official—Genesis has new split off from Hyundai in order to create luxury mid-size sedans that will compete with the likes of BMW, Audi, Volvo, Acura, infiniti, Jaguar, Cadillac, Lexus Mercedes-Benz, Volvo, and Lincoln. And the first offering from the solo Genesis project has arrived: The all-new 2017 Genesis G80.
The specs of the new 2017 Genesis G80 look quite nice, too. That is to say, the Genesis vehicle offers two engine options: a 3.8-liter V-6 that delivers up to 311 horsepower, and a 5.0-liter V-8 that will push up to 420 horsepower. This is all coupled with an eight-speed automatic transmission. As far as gas mileage goes, the 2017 Genesis G80 has an EPA estimated 18 miles per gallon in the city, 28 miles per gallon on the highway, and 22 miles per gallon combined. All this combines to push the new 2017 Genesis G80 from zero to sixty in 6.6 seconds. Too, when it comes to the quarter mile, the vehicle clocks in at around 14 seconds at roughly 100 miles per hour. All of this for a price tag of well under $50,000.
Inside the vehicle, things ramp up, so to speak. That is to say, there is a panoramic sunroof (for the Premium package) that literally covers I would guess about 80 percent of the ceiling. Too, with the Premium package, customers can expect at 9.2-inch touchscreen that goes quite nice with the otherwise button-heavy interior. (That is not to say that physical buttons and knobs are a bad thing; in fact, such a thing provides a nice little throwback with regard to the new  Genesis G80 infotainment system.) Safety features are a huge plus when it comes to the new 2017 Genesis G80. That is to say, the vehicle comes standard with automatic high-beam headlamps, automated emergency braking, adaptive cruise control, blind-spot detection with rear cross-traffic alert, lane-departure warning, and lane-keeping assist.
Of course, what is obvious with the new 2017 Genesis G80 is that the engineers were focused mainly on two things: luxury and comfort. And that is what you are going to get with this vehicle: a ton of comfort in a very luxurious package. In any event, we can probably expect a lot of good things in the future from the Genesis brand.
As is always the case, keep checking back in here with us at your Algonquin Genesis dealer for more information with regard to the all-new 2017 Genesis G80. Too, while you are at it, why not stop by and sign up to test drive one of our many new lot vehicles? We can promise to do everything in our power to help you find the perfect vehicle!