All-Electric Genesis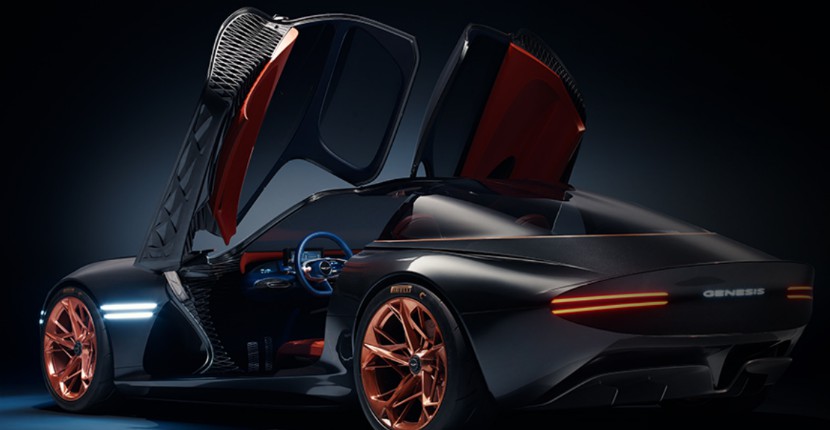 Is Genesis becoming the future brand of luxury vehicles? This automotive company is known for being a top contender against its rival companies like Audi, BMW, Lexus, and other luxury brands. If Genesis continues producing concept cars similar to the Essentia, they just might become the future of luxury vehicles.
The Genesis Essentia, an all-electric GT coupe concept car, strives to make a more emotional impact on its consumers. The sleek uniqueness of the Essentia's exterior places this vehicle into a class of its own. Even comparing the Essentia to the rest of Genesis' vehicles is not fair; this all-electric coupe demands the spotlight.
The all-electric Genesis Essentia has a racecar style chassis that houses its battery packs in its central tunnel. Although Genesis has not released any information about the details of the Essentia's batteries, the company has revealed that multiple electric motors will be included in the coupe. According to Genesis, the inclusion of multiple electric motors will allow this vehicle to go 0-60 mph in just 3 seconds! With the ability to reach top speeds, the Genesis Essentia even reduces drag. Vents located behind the front wheels substantially relinquish pressure from the wheel wells, making this concept coupe more functional than ever.
Genesis has confirmed that the "Quad Lights" from their GV80 concept are included in the Essentia. An impressive grille, similar to the grilles outfitted by Genesis' current sedans, is also confirmed to be incorporated on the Essentia's front exterior.
Luxury vehicles are would be nothing with technology, and the Essentia obtains the most current technological advances. This impressive all-electric concept coupe includes an artificial intelligence system that can evaluate driver's behaviors and moods, as well as respond to voice commands. This technology gives the all-electric Essentia the capabilities to communicate with smartphones, devices, and other vehicles. According to Genesis, these technological advances are due to their vehicle-to-vehicle communication system.
Still not convinced that Hyundai Genesis is the future brand of luxury vehicles? Click here to browse new Genesis models, or stop by your Algonquin Genesis dealer today!