Hyundai Genesis Brand at Riviera Country Club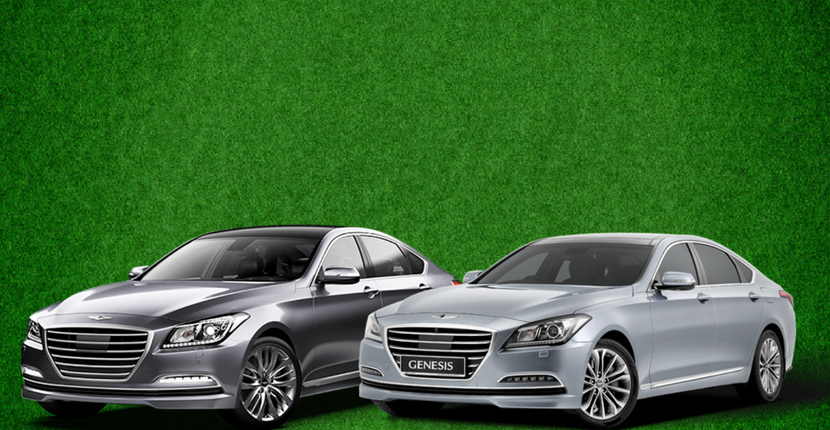 From what seems like the beginning of time, advertising via event sponsorship has gone hand in hand with the automotive industry. This is certainly the case when it comes to the (sort of) new kid on the block as well. That is to say, Hyundai's luxury brand spinoff, Genesis, managed to land a huge sponsorship deal recently with the PGA Tour's golf tournament at the historic Riviera Country Club in Los Angeles, California. Of course, this is a very big opportunity for Genesis, as the brand's logo was placed everywhere throughout the course, G80 and G90 sedans were displayed everywhere, and these same vehicles were lent to golfers who were involved in the weekend long tournament. All of this ensures Genesis that eyes will be on their brand. "It's true to say that raising awareness of Genesis is one of our main goals," notes Erwin Raphael, General Manager of the division.
The PGA Tour's tournament at the Riviera Country Club included a ton of the world's top golfers, including the likes of Dustin Johnson, Justin Thomas, Jordan Spieth, and Jason Day. Notable by his absence was Tiger Woods, who was out healing a back injury he sustained while playing recently over in Dubai. Of course, Tiger's absence is a bit of a sting with regard to Genesis sponsoring the tournament, as he is easily the most popular golfer today (and perhaps of all time?), and so is guaranteed to bring more people's eyes to the brand. Too, the Riviera Country Club is actually the setting for Tiger's professional debut back in 1992, something that would certainly add intrigue and bring in more viewers.
Nevertheless, the event certainly was a success for Genesis, and their brand was definitely seen by tons of people. The success goes both ways, however. That is to say, the PGA Tour, and golf in general, is trying to restructure the sport's image to be more of a sport for the masses and not such an elite endeavor. Partnering with a brand that is a spinoff of Hyundai, typically a brand associated with everyday individuals, is a move in such a direction for the sport.
The Genesis brand is fresh off of its somewhat separation from the Hyundai brand, so the company is simply trying to get its name out there at the moment and to be associate with a top of the line experience: "our goal [at the moment] is to be the experience—a great one for our customers," said Raphael.
As is always the case, keep checking back in over here with us at Rosen Genesis for more information with regard to all your Genesis information. Too, while you are at it, why not stop by and sign up to test drive one of our many new lot vehicles? We can promise to do everything in our power to help find the perfect vehicle for you!